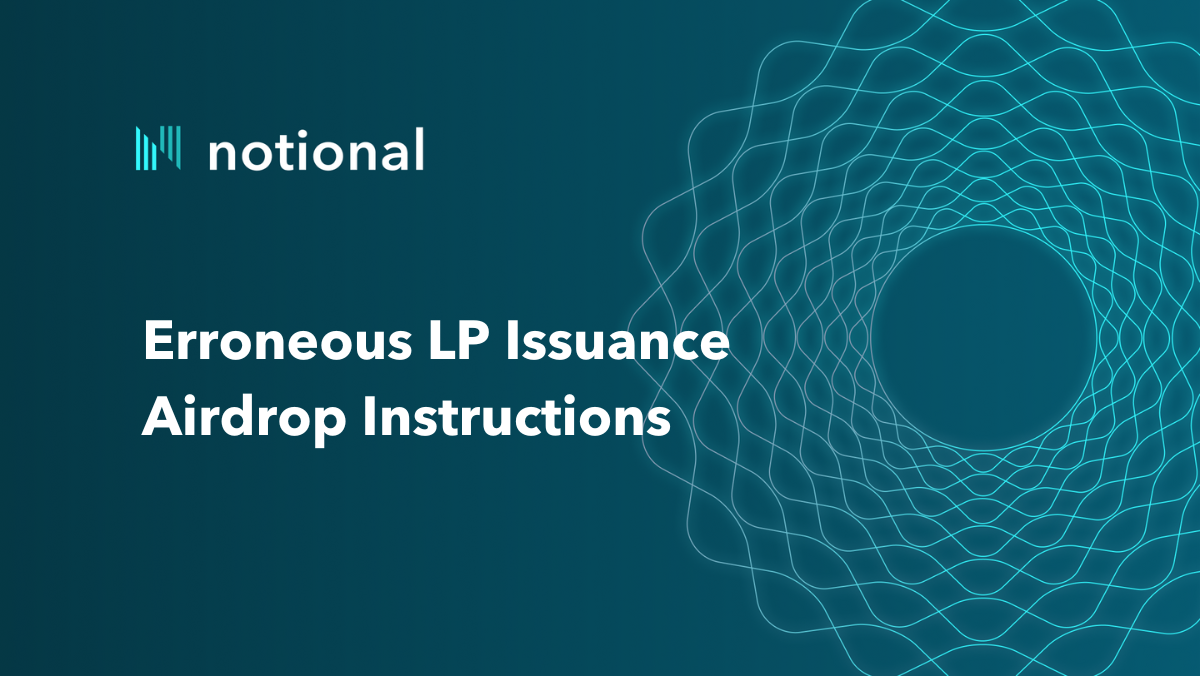 Fixed: Incentive Issuance Affecting Early V2 LPs
We've upgraded the calculation which erroneously diluted nToken holders and have launched an airdrop portal for those affected to claim their owed NOTE.
As we've previously written, the incentive issuance calculation in Notional V2 contained a bug that erroneously diluted nToken holders during periods of large TVL spikes. We've upgraded this calculation to match the mechanism used in Sushi Swap and nToken holders who were diluted will be made whole via an airdrop claim.
How to claim:
-Check your eligibility and allocation on this spreadsheet.
-Claim your airdrop starting on June 12 at notional.finance/airdrop

Please note, if you have an unclaimed airdrop from the initial v2 launch, you must first claim that before claiming the incentive issuance airdrop.
If you have any questions or concerns, please hop into our Discord and drop a message in the support channel! We appreciate everyone's patience with this issue.
About Notional Finance📈
Notional is the first decentralized, Ethereum-based protocol for borrowing and lending at fixed rates and fixed terms. With variable rate lending, DeFi can only serve a small segment of the crypto lending market because variable interest rates don't provide the certainty that lenders and borrowers require. Notional fixes this by creating a true market for lenders and borrowers that empowers individual investors, business owners and institutional investors.
After raising a $10 million Series A in May 2021 from some of the top VC firms, including Coinbase Ventures, Notional's protocol was relaunched on 11/1 with a host of new features as well as the NOTE governance token. Notional is now a top 10 DeFi lending protocol, with more than $350M in total value locked & nearly $500M in borrowing and lending volume.
To find out more, follow Notional on Twitter @NotionalFinance, subscribe to the newsletter, join the Discord, or check out the website to learn more.‌‌‌

Notional Finance Newsletter
Join the newsletter to receive the latest updates in your inbox.
---