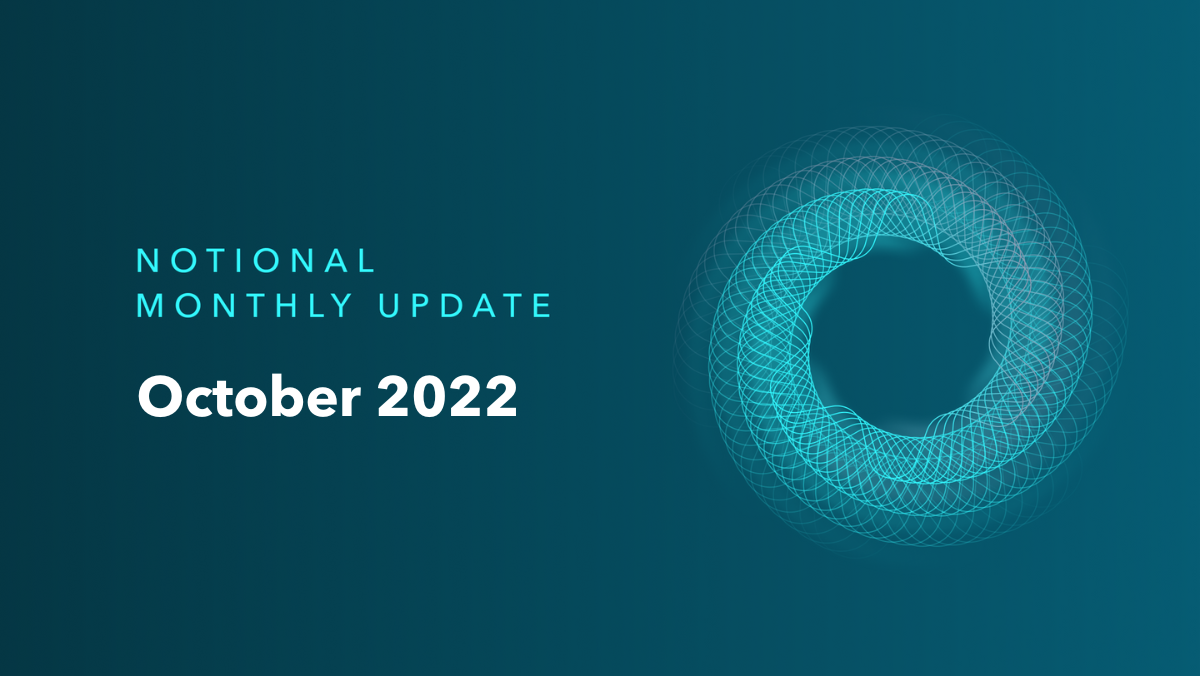 Notional Fixed Rate Update 🗓️ October 2022
*Leveraged Vaults beta starts this week* Welcome to the latest edition of the Notional Monthly Update!  Follow the latest news on Twitter or join the Notional community on Discord. ‌‌‌‌
---
🗒 Summary Notes ‌‌‌‌
‌‌‌‌‌‌‌‌
-wstETH/ETH Leveraged Vault Beta Begins!
-LP Opportunity With SpoolFi
‌-Read: Q3 Notional Treasury Report
-Leveraged Vaults Audit Results: Consensys Diligence (live) - Sherlock coming soon.
---
‌📊 Monthly Protocol Stats‌‌‌‌

‌‌‌‌‌‌‌‌-TVL: $89,223,307 (+8% vs Sept)
-Oct. Loan Volume: $11,246,000 (-82% vs Sept)
-Protocol Revenue: $8,449 in trading fees (-80% vs Sept) and $29,194 in COMP incentives (-7% vs Sept). Total: $37,643
‌‌‌‌-Current Lend (USDC 12m) APY: 4.03%
‌‌‌‌-Current LP (ETH) APY: 7.61% (.5% variable +7.11% NOTE rewards)
---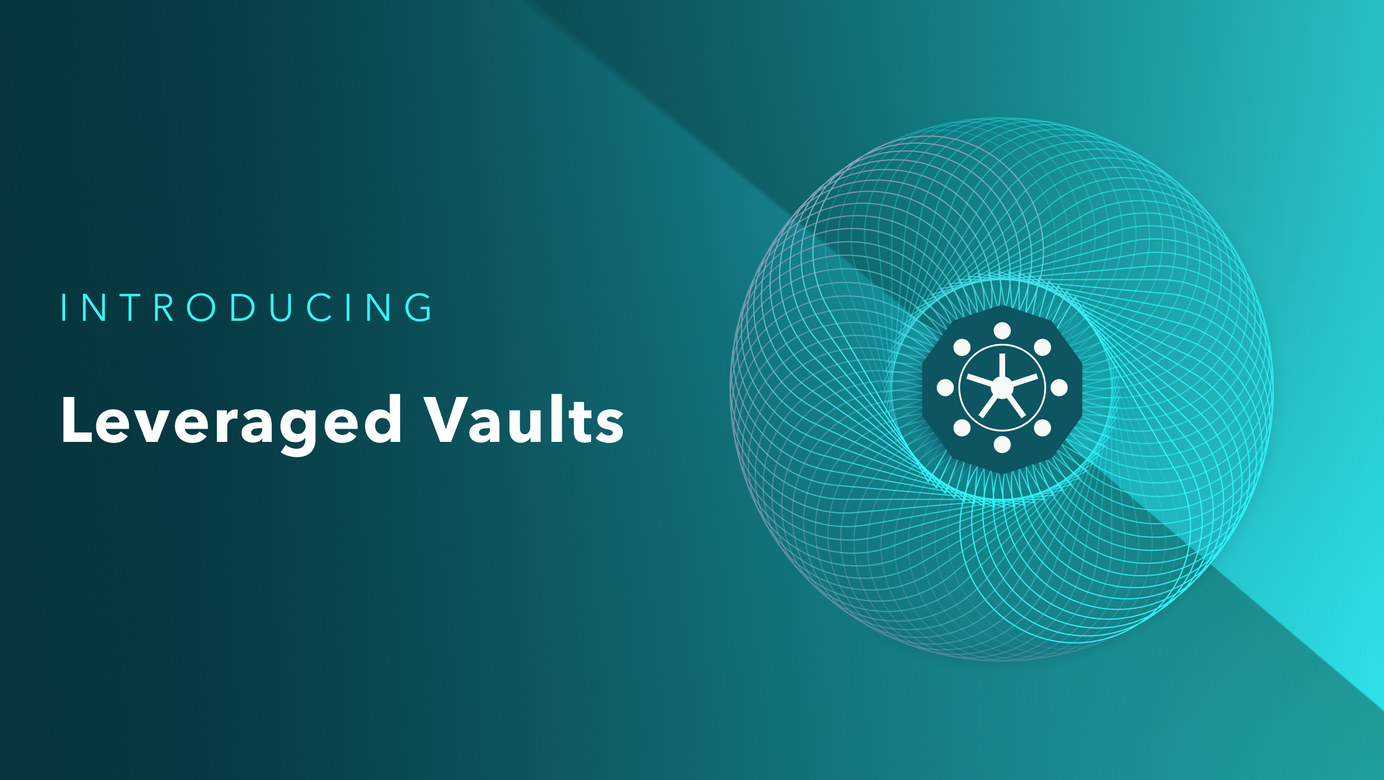 Leveraged Vaults Beta Launch Starts This Week!
The first users will gain access to leveraged vaults this week in a capped capacity beta period that will be incrementally increased as the team monitors results and usage. If you'd like to be considered for the early beta launch, fill out this sign-up form. In case you missed our last community call, a full summary is available with the major points summarized below:
-Only the wstETH/ETH strategy will be live during the initial beta launch, with the stablecoin planned to be deployed in the next few weeks.
-There will be an initial cap of 750-1000 ETH during the first week of beta launch, which will be increased with planned increments of 1000 ETH weekly.
-Audits were concluded with Sherlock and Consensys Diligence, the latter is already public here.
-Leveraged vaults will be geofenced for U.S users due to regulatory uncertainty.
---
🔥🔥LP Rates on SpoolFi
Our latest integration partner, SpoolFi, has boosted APYs at the moment when you use a "Spool" affiliated with Notional. We've created two "Zero Fee" spools, which means there is no creator fee associated with using the vault (there is a platform fee).

Spools are essentially vaults that allow users to invest their funds to different strategies, allocating according to preference, risk profile, etc. to create a balanced overall portfolio. The team is busy adding new strategies all the time, including a Convex/Frax strategy most recently.
Allocating to the Notional spools means tapping into the yields that are coming from being an LP in either the USDC or DAI pools. With the $SPOOL allocations, the yields are boosted, at least for the current epoch. As always, DYOR!
Want to find out more about Spool? Teddy recently did an informative Twitter Spaces with the team. Check it out below!
---
Q3 Report Highlights
Check out this Tweet thread that goes over what happened on Notional in Q3!
OR download the full report below 👇
---
DeFi Rates Substack Now Includes ETH + L2 Rates!
Are you keeping up to date with the latest rate changes in DeFi, anon? If not, it's time you subscribed to Teddy's weekly DeFi Rates Substack - we've revamped slightly what's included, so now you've got vital info on how ETH & USDC (bye bye, DAI) rates are moving, how they vary on mainnet and various L2s, and commentary on why.
Here's a sneak peak: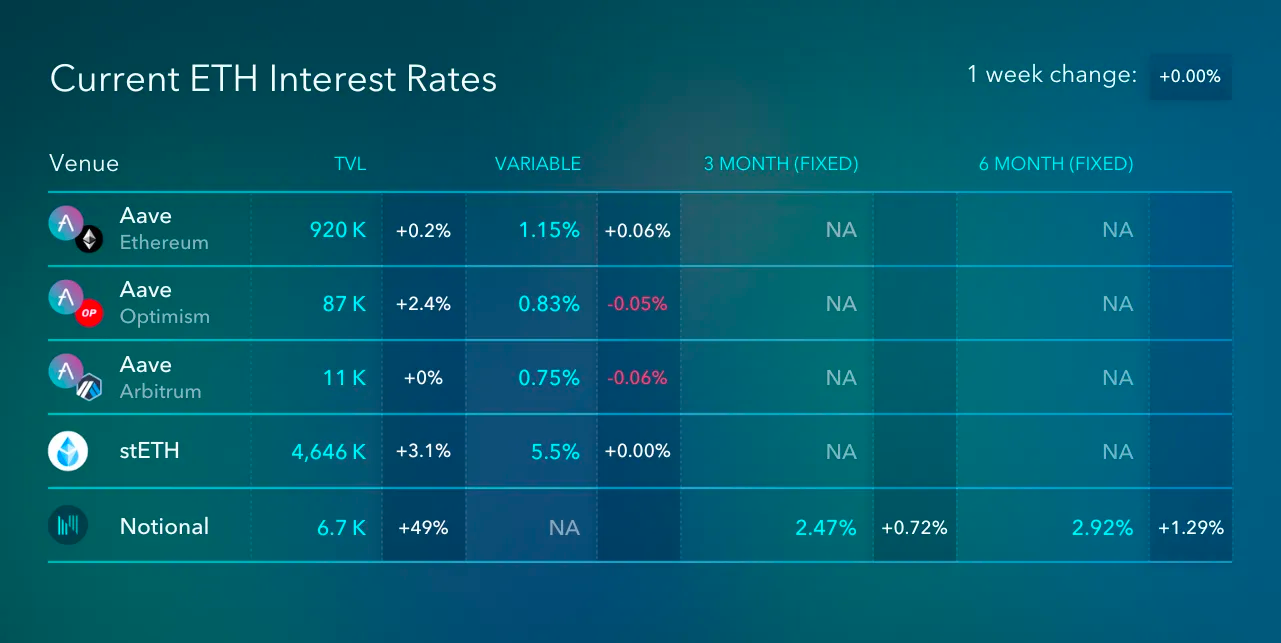 ---
🗳️Governance
$NOTE holders can make a Notional Improvement Proposal (NIP) via the Commonwealth forum. Voting is gas-free and happens on Snapshot.
[NIP-13] Update NOTE incentives
This vote is to determine if the Notional protocol should increase NOTE incentives for nETH LPs by 1,250,000 NOTE annually, decrease nDAI incentives by 2,000,000 NOTE annually, leave nUSDC incentives unchanged, and cut nWBTC incentives to 0. On aggregate this will lead to a reduction of -10% in NOTE incentives. Result: Passed w/ 100% support.
NIP-14 - NIP 16, also all passed, resulting in the renewal of the COMP investment program for sNOTE, the reimbursement of Notional Inc. for audit-related expenses, and the transfer of 15M NOTE tokens to the proxy contract in order to operationally be able to pay LP incentives (no changes to nToken incentive rates).
See all governance posts here.  
---
‌‌🫂Community Events
📞  Twitter Space w/ Teddy &  SpoolFi Team
ICYMI, here's a recording of the Twitter space.
---
🗞️Notional in the News
A roundup of Notional media mentions and appearances by the core team.
Teddy on Mission: DeFi Ep. 81
CEO Teddy Woodward on Token Terminal's 15-Minute Fundamentals podcast
---
‌About Notional Finance📈
Notional is the #1 Ethereum-based protocol for borrowing and lending at fixed rates and fixed terms. With more than $650M in total fixed rate lending volume, Notional is now a top 10 lending protocol providing core DeFi infrastructure.

Notional's latest product launch, leveraged vaults, is slated for Q3 2022. A new DeFi primitive built on fixed rate borrowing, leveraged vaults execute specific yield strategies while collateralizing the vault assets, allowing users to maximize capital efficiency by taking up to 10x leverage.
After raising a $10 million Series A in May 2021 from some of the top VC firms, including Coinbase Ventures, Notional's protocol was relaunched on 11/1 with a host of new features as well as the $NOTE governance token. Notional is now a top 10 DeFi lending protocol with more than $600M in total lending volume.
To find out more, follow Notional on Twitter @NotionalFinance, subscribe to the newsletter, join the Discord, or check out the website to learn more.‌‌‌‌

Notional Finance Newsletter
Join the newsletter to receive the latest updates in your inbox.
---