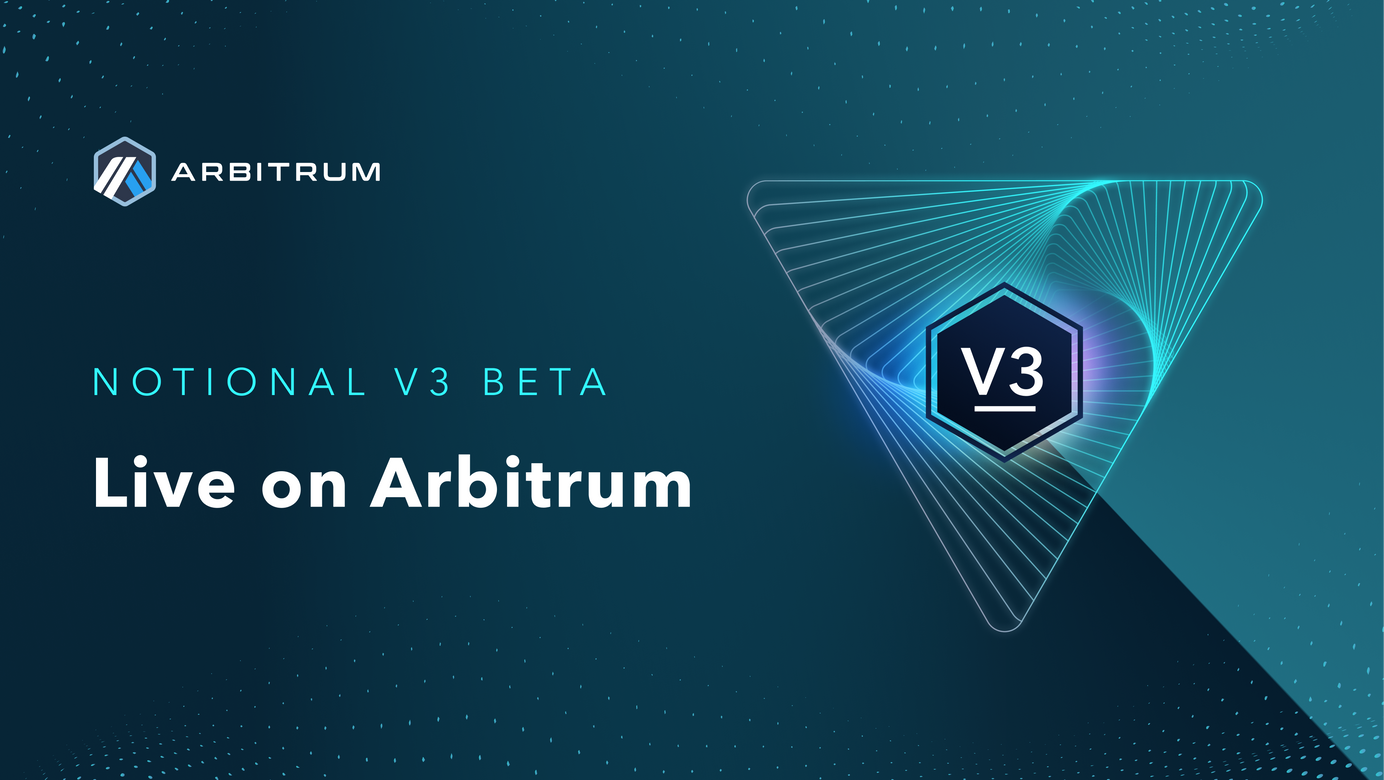 We are excited to announce that Notional V3 is live in Beta on Arbitrum! Notional V3 is the culmination of almost a year of work, and it represents a huge step forward for Notional and our users.
Here's what you need to know about the V3 Beta:
The V3 Beta is exclusively on Arbitrum and it is invite-only. Only addresses that hold Notional's V3 Beta Pass NFT will be able to get past the lock screen on the UI.

The V3 Beta Yield contest starts now! With 30,000 NOTE and three unique NFTs in prizes, it pays to get started earning yield on Notional V3 as soon as you can.

Yield opportunities will be available for the following currencies: USDC, DAI, FRAX, USDT, ETH, wstETH, rETH, and wBTC.

Deposits per currency are capped at 250k USD for all currencies for the duration of the contest except USDC and ETH which are capped at 500k USD.
What's new in Notional V3
Notional V3 introduces four new things:
New leveraged yield strategies. Notional users now have access to leveraged lending and leveraged liquidity strategies. Leveraged lending allows users to arbitrage variable rates vs. fixed rates on Notional with leverage. Leveraged liquidity allows users to lever up on providing liquidity to maximize $NOTE rewards.

Variable rate borrowing and lending. Notional users will now be able to lend and borrow at variable rates in addition to fixed rates. This will help broaden Notional's utility and help to increase yields for all Notional users.

Borrowing UX improvement. Notional V3 means no more hard settlement of debts. On Notional V3, fixed rate debts automatically convert to variable rate debts upon maturity with no penalty instead of being rolled forward at a penalty interest rate.

Brand new UI. The new Notional UI was designed specifically for DeFi power users. This UI gives greater transparency around Notional's products and should make using Notional much easier and less confusing.
Beta pass distribution
You can find the Notional V3 Beta Pass NFT collection on Arbitrum here. All NFTs were minted and transferred to eligible addresses - there is nothing that needs to be claimed. To see whether you hold the NFT, look at your account on Opensea and check your hidden NFTs. The Notional Beta Pass will show up as hidden because it was transferred to you.
The Beta Pass NFTs were given to six groups:
People who signed up for the V3 Beta pre-launch.
Notional NFT holders.
Past Notional leveraged vault users.
Llama NFT holders.
L2 DAO NFT holders.
Degenscore Beacon holders.
Yield contest
The Notional V3 Beta is running a yield contest exclusively for Beta participants. Users will be able to compete for one of three NFT prizes and up to 30,000 NOTE. The yield contest starts today and rewards the users who make the highest realized APY with and without leverage over the next 30 days.
Find the full contest rules and leaderboard here.
Yield contest referrals
Every address that was eligible for a Beta Pass NFT received two Beta passes. Beta passes are transferable, and passing them out to friends comes with an incentive. If you transfer a Beta pass to an address that goes on to win a prize in the yield contest, you will get an extra 50% of that prize as a referral bonus.
This referral bonus is subject to terms:
Maximum of one bonus will be paid per prize.
If a prize winner received a Beta pass from the original distribution, transferring them a pass does not count as a referral.
If a prize winner receives multiple passes, only the first address to transfer them a pass is eligible for the bonus.
Only addresses who received a pass in the original distribution are eligible to receive referral bonuses.
Looking ahead
We are incredibly excited to launch the Notional V3 Beta on Arbitrum today and are even more excited about the future. We expect to make Notional V3 fully public on Arbitrum and raise the deposit caps in ~one month and then start working on upgrading Notional V2 to Notional V3 on Ethereum Mainnet after that.
Once we are fully live with V3 on Ethereum and Arbitrum we will focus on growing Notional's listed currency set and listing more leveraged vault strategies to increase yields for users and grow the platform's TVL.
Onward!
The Notional Team
Notional Finance Newsletter
Join the newsletter to receive the latest updates in your inbox.
---