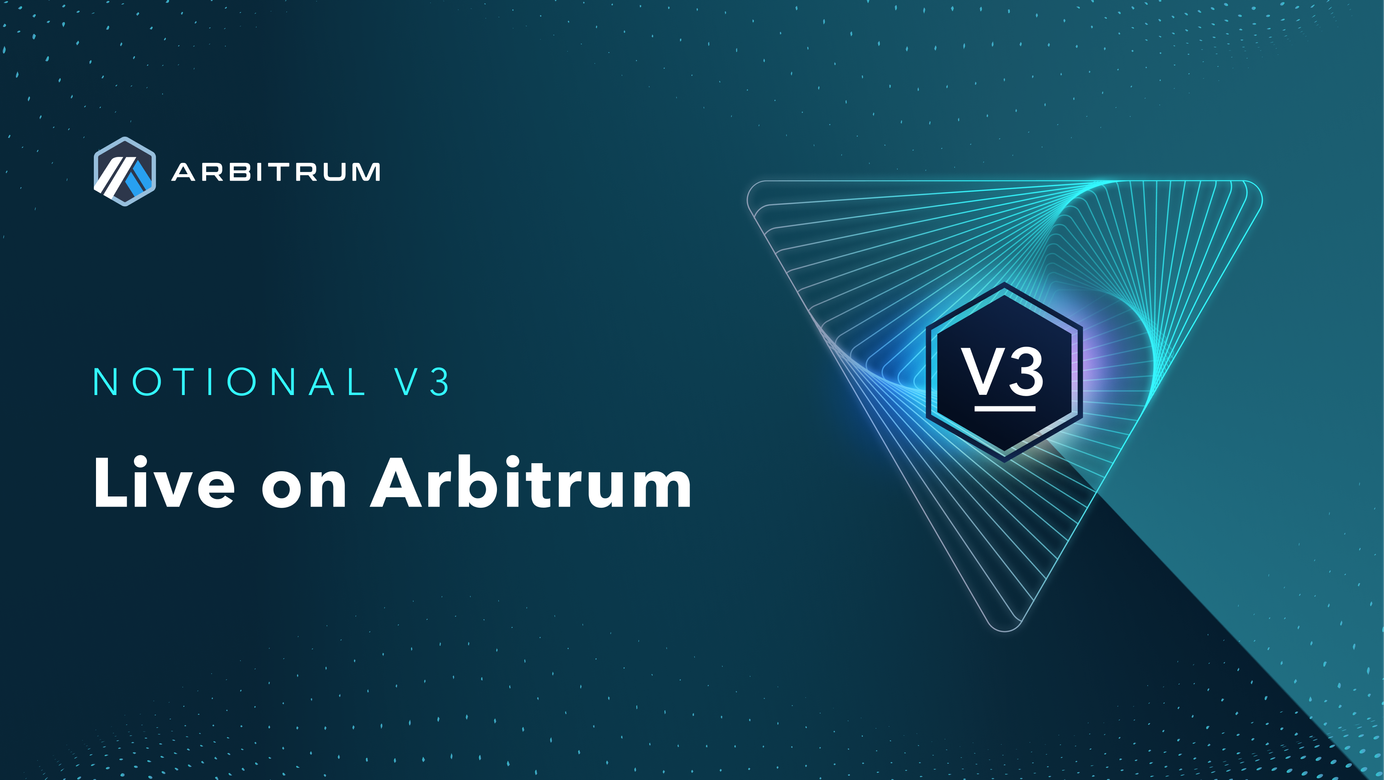 Notional V3 is Live on Arbitrum
We are excited to announce that Notional V3 is live on Arbitrum. Notional V3 is the culmination of years of hard work and represents an enormous step forward for DeFi lending on Arbitrum.
Notional V3 enables three things: fixed rate lending and borrowing, variable rate lending and borrowing, and leveraged yield strategies. Here's how you can use Notional V3 on Arbitrum today:
Users can lend and borrow 9 assets at fixed or variable rates: USDC, DAI, USDT, FRAX, ETH, wstETH, rETH, cbETH, and wBTC.

Users can lend and borrow 3 assets using variable rates: ARB, GMX, RDNT.

Users can earn leveraged yield on USDC, DAI, USDT, FRAX, ETH, wstETH, rETH, cbETH, and wBTC.
What's new in Notional V3

Notional V3 introduces lots of new functionality and improvements over Notional V2. Here are some of the new things that V3 enables:
Variable rate lending and borrowing. Notional users will now be able to lend and borrow at variable rates in addition to fixed rates. This will help broaden Notional's utility and help to increase yields for all Notional users.

New leveraged yield strategies. Notional users now have access to leveraged liquidity strategies. Leveraged liquidity allows users to lever up on providing liquidity to maximize $NOTE rewards.

Borrowing UX improvement. Notional V3 means no more hard settlement of debts. On Notional V3, fixed rate debts automatically convert to variable rate debts upon maturity with no penalty instead of being rolled forward at a penalty interest rate.

Brand new UI. The new Notional UI was designed specifically for DeFi power users. This UI gives greater transparency around Notional's products and makes using Notional much easier and more understandable.
Looking ahead

There's a lot more coming to Notional V3 on Arbitrum in the next few months. Work to onboard LINK, UNI, LDO and others as collateral assets is already underway and expected to complete later this month. Three new Balancer/Aura leveraged vaults are coming to Notional V3 as well in early December. And finally, entirely new leveraged yield strategies and partnerships with Arbitrum-native protocols are in development.
In addition to efforts on Arbitrum, Notional is also pushing forward with progress on Mainnet. In the coming months we expect to upgrade Notional V2 to Notional V3 and list more currencies and leveraged vaults to give Ethereum users the same high-quality experience and yield opportunities that users will enjoy on Arbitrum.
Notional V3 marks a major step in the development of the Notional protocol and we are incredibly excited to unveil it and focus on growth. Things are going to heat up in the next few months - make sure to follow Notional on twitter for updates so you don't miss out!
The Notional Team
Notional Finance Newsletter
Join the newsletter to receive the latest updates in your inbox.
---