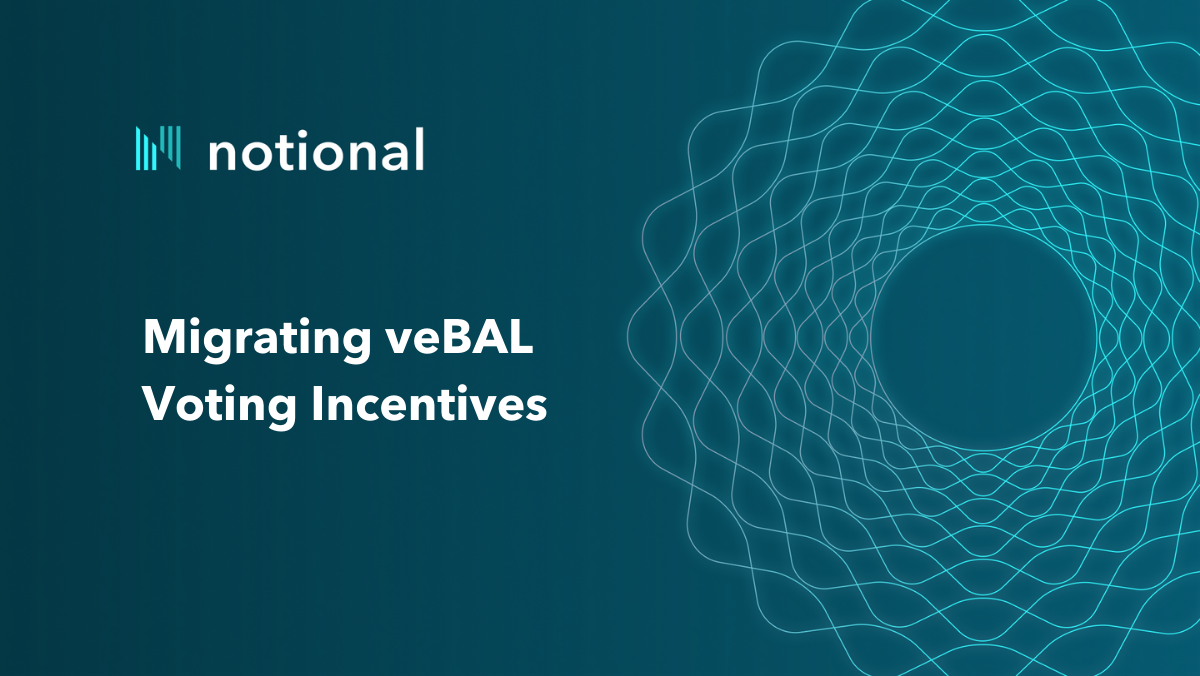 Guide: Allocate Your veBAL to Notional to Maximize LP Rewards
With the new veBAL voting system, it's important that all holders actively steer the distribution of BAL for liquidity mining to the new Notional 80/20 NOTE/WETH pool. The more veBAL a pool gets voted, the more BAL its LPs will receive from liquidity mining every week.
The Notional team has upgraded the sNOTE contract to enable the protocol to lock the BAL rewards as veBAL. Voting to direct BAL incentives to the Notional 80/20 NOTE/WETH pool will enable Notional to lock those rewards as veBAL and vote for even more BAL rewards for sNOTE holders. You only need to vote once!
If you're currently voting for the 50/50 WETH/NOTE pool, you should change to the 80/20 pool seen below at the voting portal page:

How to Use Your veBAL to Vote on Balancer
Easy as 1-2-3
Head to the Balancer App
Click veBAL in the main menu
Scroll to the NOTE 80%/WETH 20% Pool and click Vote
How veBAL Works
With the new ve system, just holding BAL does not give you any voting rights or any of the other benefits of the ve-system like liquidity mining boosting and Protocol revenue distribution. To have these, you now need to hold veBAL, which you can get by locking LP Tokens (BPTs) of the 80/20 BAL/WETH pool. Votes for emissions automatically roll over to the next epoch - you only need to do something again if you'd like to change your vote.
The benefits for both veBAL lockers and protocols like Notional are clear:
√ Boost liquidity mining yield up to 2.5x
√ Vote to direct liquidity mining emissions
√ Earn your share of Balancer protocol revenue
To read more about the veBAL model, check out this post.
About Notional Finance📈
Notional is the first decentralized, Ethereum-based protocol for borrowing and lending at fixed rates and fixed terms. With variable rate lending, DeFi can only serve a small segment of the crypto lending market because variable interest rates don't provide the certainty that lenders and borrowers require. Notional fixes this by creating a true market for lenders and borrowers that empowers individual investors, business owners and institutional investors.
After raising a $10 million Series A in May 2021 from some of the top VC firms, including Coinbase Ventures, Notional's protocol was relaunched on 11/1 with a host of new features as well as the NOTE governance token. Notional is now a top 10 DeFi lending protocol with nearly $500M in borrowing and lending volume.
To find out more, follow Notional on Twitter @NotionalFinance, subscribe to the newsletter, join the Discord, or check out the website to learn more.‌‌‌

Notional Finance Newsletter
Join the newsletter to receive the latest updates in your inbox.
---