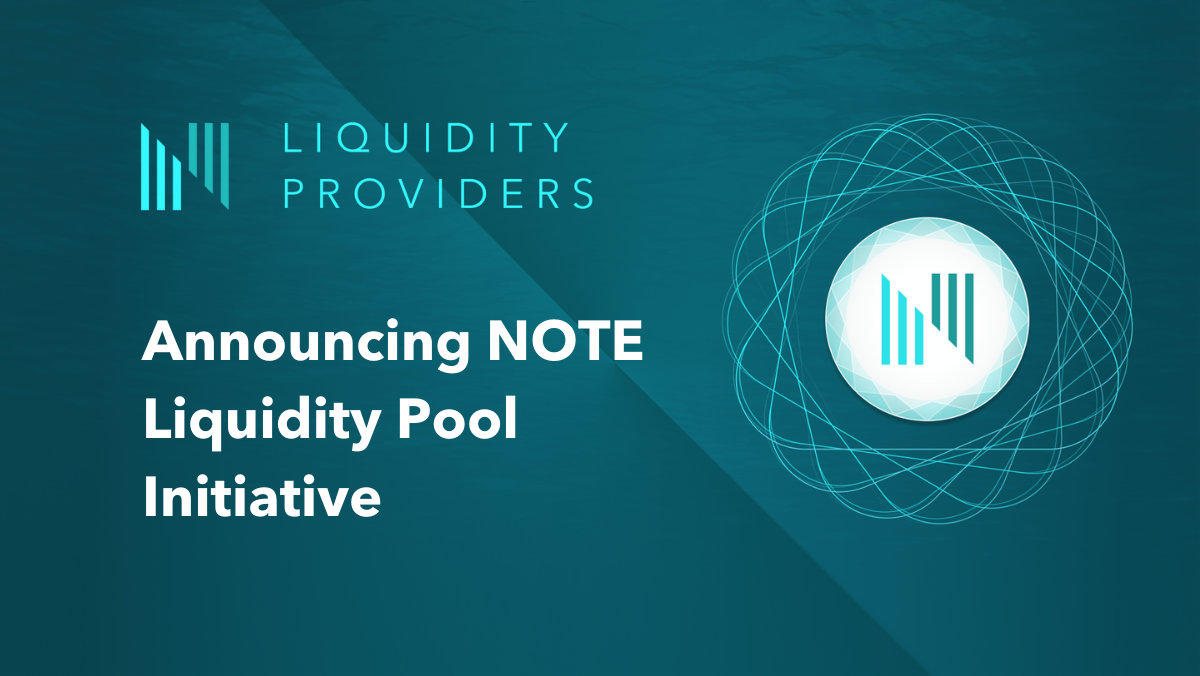 Announcing NOTE Liquidity Pool Initiative
With the launch of Notional's governance token - $NOTE - alongside the release of V2, the goal continues to be creating long-term incentives for the health of the protocol and growth of the community. We firmly believe that Notional provides core, base-level infrastructure that will serve a growing ecosystem of fixed rate products that will greatly expand the user base and use cases of DeFI.
With this in mind Notional community, we've heard you, and we're happy to announce a 50/50 WETH/NOTE Balancer pool is going live Sunday, Nov 14 at 7pm EST.
While the Notional treasury will not be adding liquidity into the pool directly, there will be incentives totaling 30k NOTE per week rewarded to NOTE holders who LP into the pool (this may be adjusted up or down depending on market conditions). Please keep in mind:
-NOTE rewards for LPs will be live from 00:00 UTC on Monday 11/15 (7 PM Eastern Time on Sunday 11/14)
-LPs do NOT need to stake their LP tokens to be eligible for incentives - they are automatically eligible.
-LP incentives are claimable at the end of each week directly via the Balancer app.
-This Balancer pool is currently the ONLY official trading pool that will earn these incentives
We are proud to partner with Balancer to help kick-start liquidity, as they've built a strong reputation for enabling efficient trading from crowdsourced pools of liquidity from investors of all sizes.
Preparing to LP NOTE on Balancer
To participate as an LP, you must connect a Web3 enabled cryptocurrency wallet to Balancer. Balancer currently supports MetaMask, WalletConnect, Portis & Coinbase Wallet.

In order to participate as an LP in the pool, you'll need to have
ETH in your wallet for gas
WETH in equal value to the NOTE you will be supplying
Participating in the NOTE/WETH Pool
At 00:00 UTC on Monday 11/15 the pool will be set live. The pool has been initiated with a minimal amount of NOTE at a $2/NOTE price point. The Balancer app will display the current token price as confirmed by Coingecko, which will be using this Balancer pool as its only price discovery input. Liquidity providers will earn .3% fixed swap fees on every trade that occurs using the liquidity in the pool. Additionally, LPs will be automatically accruing a proportionate allocation of the 30k/week NOTE rewards provided as incentives by the protocol for participating in this pool.
Please always confirm you are interacting with the official pool:
Balancer pool address: https://app.balancer.fi/#/pool/0x5f7fa48d765053f8dd85e052843e12d23e3d7bc50002000000000000000000c0
Contract Address: 0xcfeaead4947f0705a14ec42ac3d44129e1ef3ed5
Ticker symbol: NOTE
You can add the NOTE custom token to your Metamask in one click on the official Coingecko listing.
Tokenomics
The total number of NOTE tokens will be 100,000,000, however, the number of circulating tokens is very low. Only the tokens actively claimed by airdrop recipients as well as the liquidity mining rewards that were initiated on 11/1/2021 are in circulation. The total number of tokens airdropped was 750,000, and liquidity mining rewards total 50k/day. The vast majority of founder, early team & investor tokens have a 3-year vesting period which will not start until Q4 2022.
About Balancer Protocol
Balancer Protocol allows for automated portfolio management and provides liquidity turning the concept of an index fund on its head: instead of paying fees to portfolio managers, you collect fees from traders who rebalance your portfolio by following arbitrage opportunities. Developers leverage Balancer as a permissionless building block to innovate freely and create new treasury management systems. Balancer Lab's mission is to become the primary source of DeFi liquidity by providing the most flexible and powerful platform for asset management and decentralized exchange.
To learn more, visit https://balancer.fi/.
Website | Twitter | Discord
About Notional Finance
Notional is the first decentralized, Ethereum-based protocol for borrowing and lending at fixed rates and fixed terms. With variable rate lending, DeFi can only serve a small segment of the crypto lending market because variable interest rates don't provide the certainty that lenders and borrowers require. Notional fixes this by creating a true market for lenders and borrowers that democratizes and empowers individual investors, business owners and institutional investors.
After raising a $10 million Series A in May 2021 from some of the top VC firms, including Coinbase Ventures, Notional's protocol has been relaunched on 11/1 with a host of new features as well as the NOTE governance token.
To find out more, follow Notional on Twitter @NotionalFinance, subscribe to the newsletter, join the Discord, or check out the website to learn more.
Notional Finance Newsletter
Join the newsletter to receive the latest updates in your inbox.
---