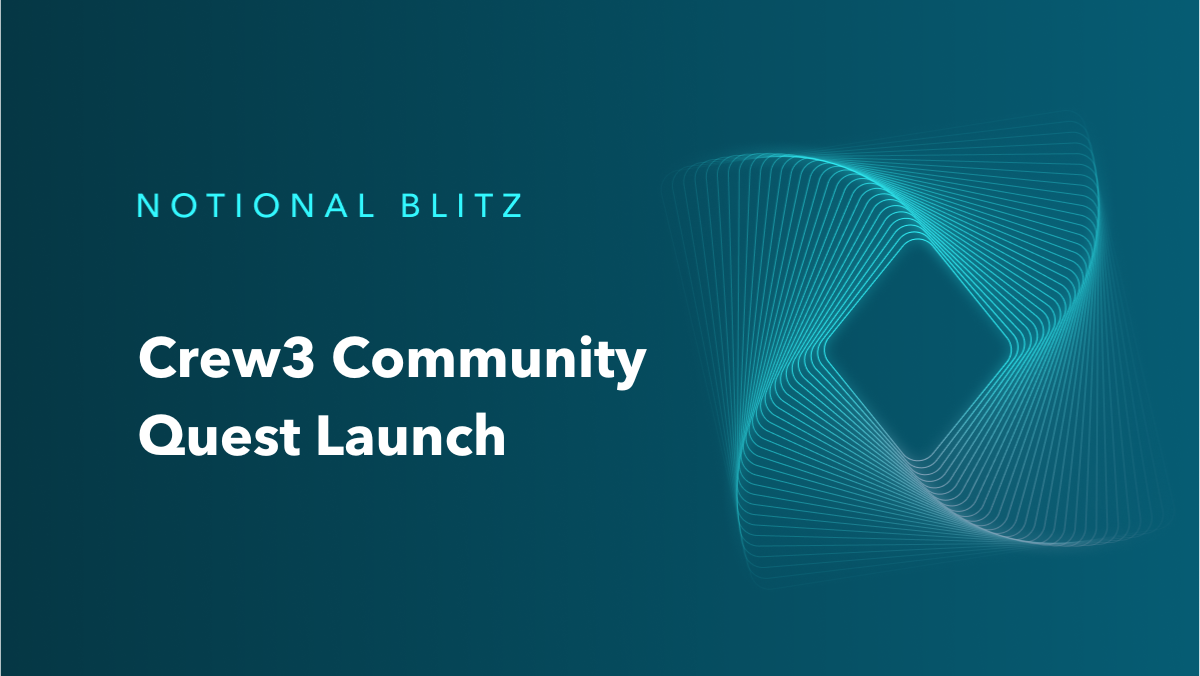 Crew3 Community Quest Launch: Learn & Transact to Earn!
tl;dr: Notional's new Crew3 community page allows anyone to learn about Notional, help spread the word, and use the protocol to earn XP - the more XP earned, the better the chance to win in the monthly $NOTE giveaway.
This year is going to be big for Notional, with new leveraged vaults, major  protocol upgrades and exciting integrations coming. The bear market is a time to build and ship code, but also a time to reach out and make new connections to the wider community. We know there are lots of eager defi users who haven't made the leap to learn and appreciate the core infrastructure Notional is building - Crew3 aims to change that.
CREW3 Community Quest
Crew3 is a gamified tool that makes engaging with the community fun and rewarding. Users can easily connect their wallet, take simple quizzes to learn about and interact with Notional content, all while earning XP. Higher XP rewards are given for completing on-chain tasks, such as lending and providing liquidity, but interacting on mainnet is not a requirement to participate while having a chance to win incentives.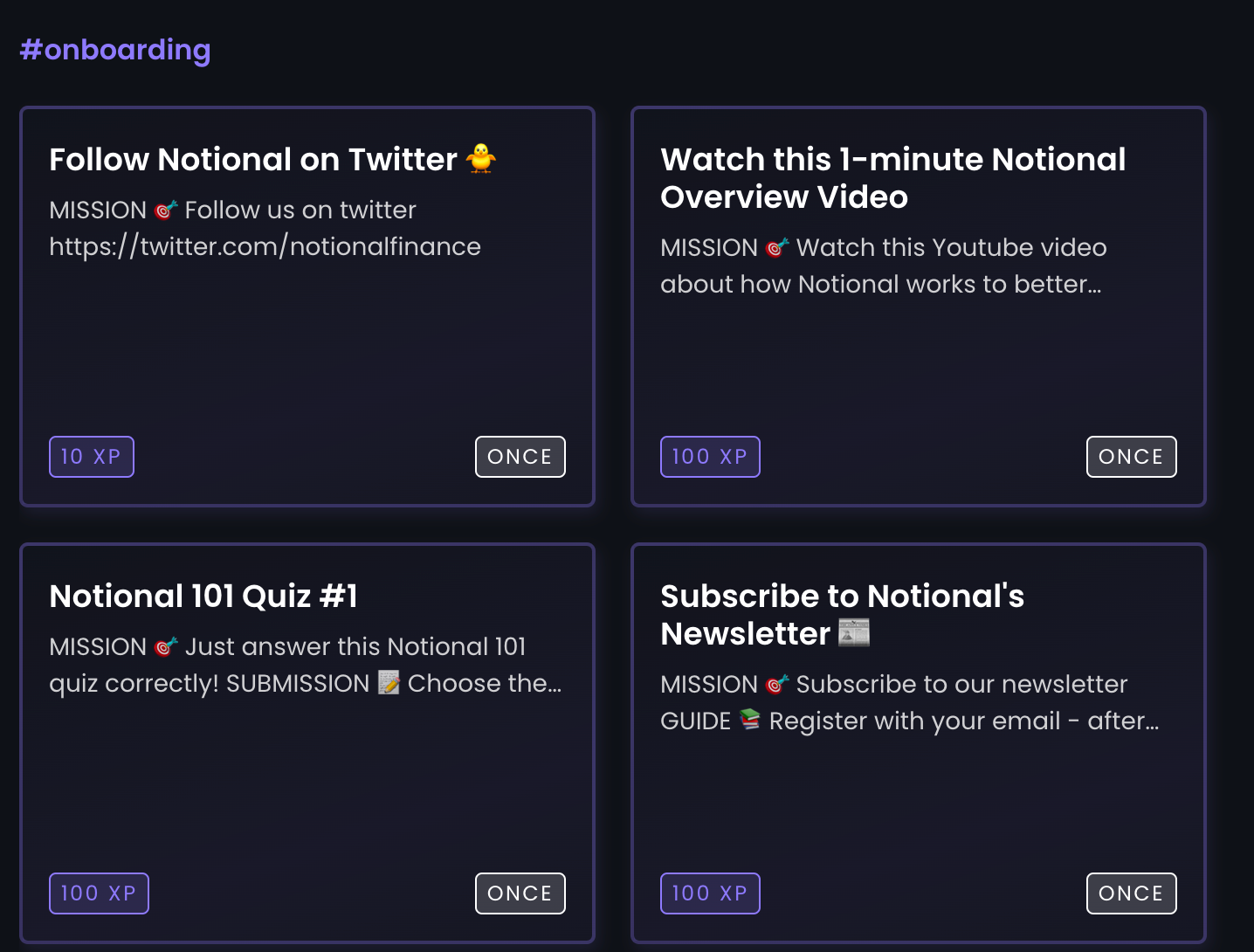 Crew3 has already helped launch the communities of hundreds of other defi protocols, NFT projects and other crypto applications by building tools to make interacting in their community fun and rewarding.
Earning $NOTE Incentives
Besides honing your defi knowledge and honing on-chain skills, each month, we'll award 2000 $NOTE total to two members via a weighted drawing - the more XP you've earned on Crew3, the better your chances are to win the drawing: 1 XP = 1 entry into the drawing. We'll announce winners in the #Crew3 Discord channel, Twitter, and monthly newsletter recap for full transparency at the beginning of each month.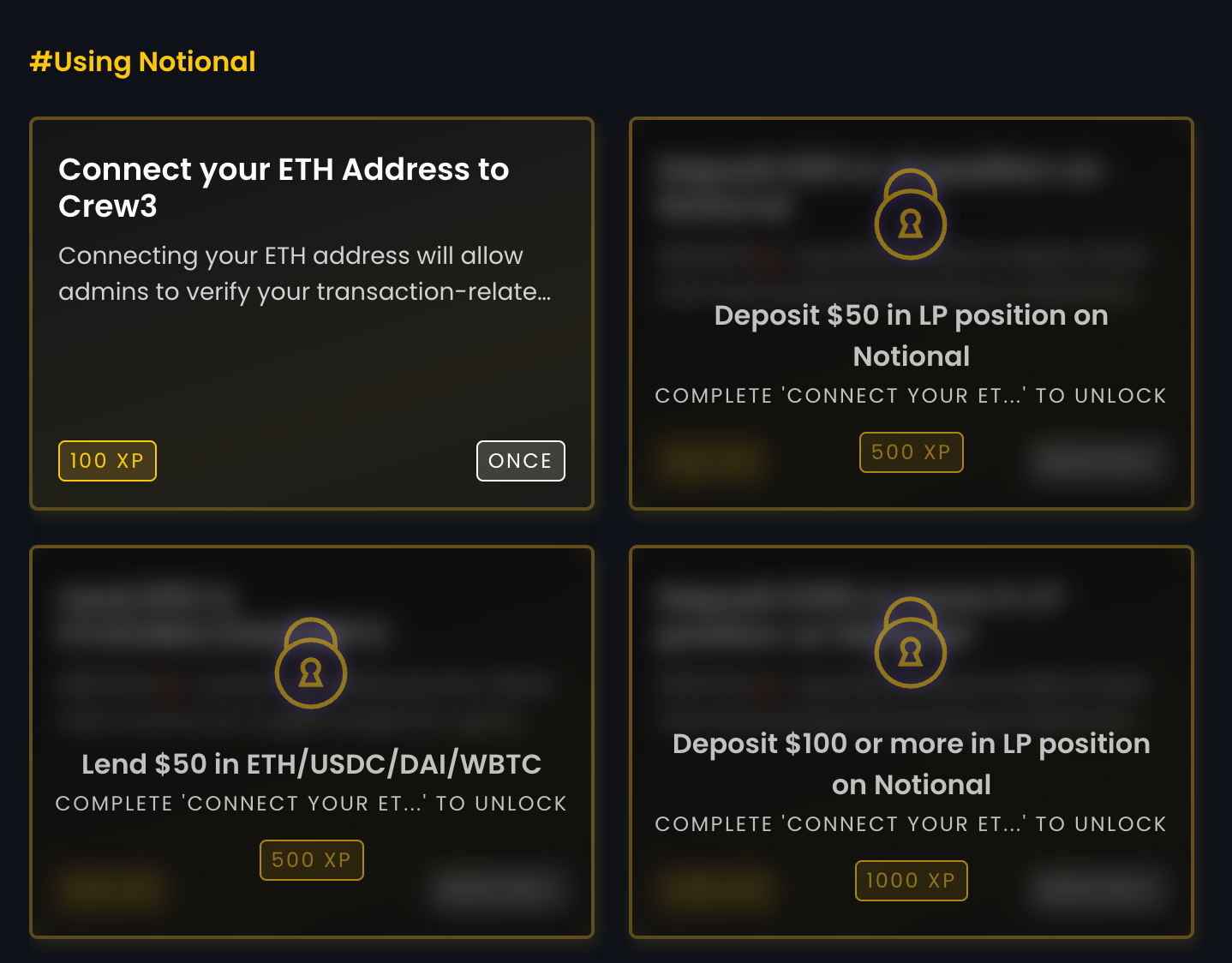 Continuing education is important in any field, and keeping up with crypto is no small feat. The Notional community team will post new quests, quizzes and content each month to make sure that the existing community is also rewarded for keeping on top of what is happening within the Notional ecosystem.
Additionally, the OG Notional LP NFT holders can connect their Discord profiles and earn an automatic XP boost that will push them up the leaderboard and increase their chances to win in the monthly drawing.
Have a suggestion for a new Crew3 quest? Or other questions? Join us on Discord to discuss - we want to make this program work for everyone, reward our community members, and boost the visibility of the Notional protocol as a whole.
Check out the full questboard on Crew3 today!
About Notional Finance📈
Notional is the #1 Ethereum-based protocol for borrowing and lending at fixed rates and fixed terms. With more than $700M in total fixed rate lending volume, Notional is now a top 10 lending protocol providing core DeFi infrastructure.

Notional's latest product launch, leveraged vaults, released Q3 2022, is a new DeFi primitive built on fixed rate borrowing, leveraged vaults execute specific yield strategies while collateralizing the vault assets, allowing users to maximize capital efficiency by taking 10x+ leverage.
After raising a $10 million Series A in May 2021 from some of the top VC firms, including Coinbase Ventures, Notional's protocol was relaunched on 11/1 with a host of new features as well as the $NOTE governance token.
To find out more, follow Notional on Twitter @NotionalFinance, subscribe to the newsletter, join the Discord, or check out the website to learn more.‌‌‌‌
Notional Finance Newsletter
Join the newsletter to receive the latest updates in your inbox.
---