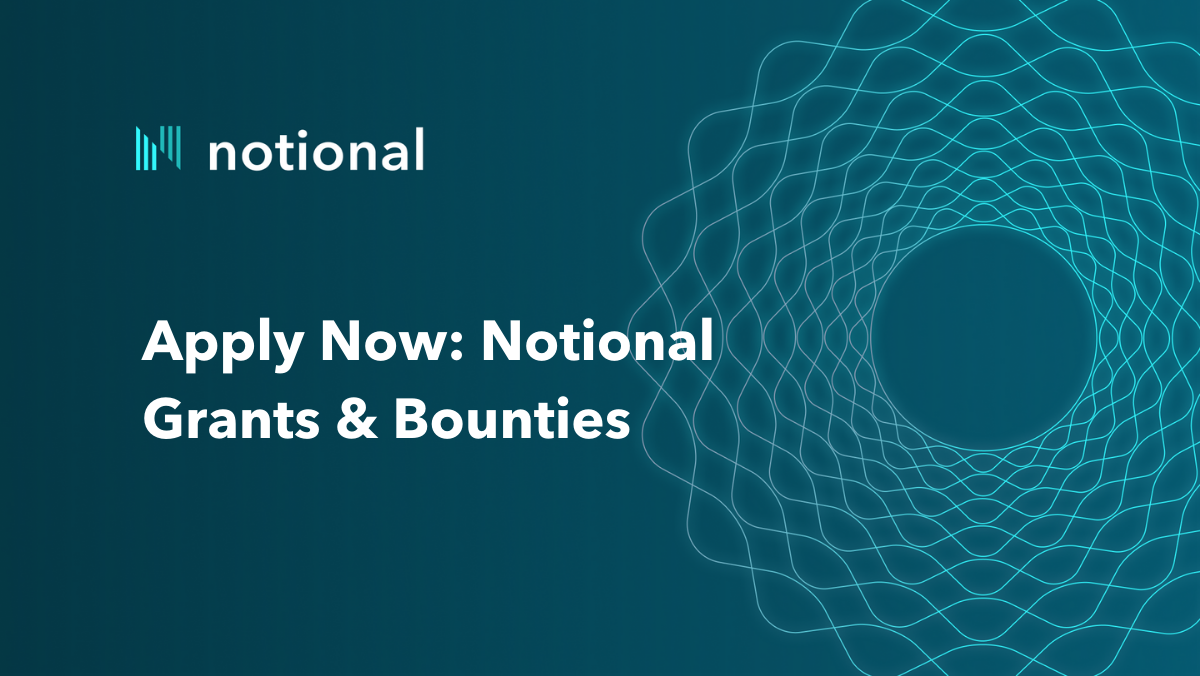 Notional Grant Program Rollout
With a successful V2 launch behind us (900 million+ TVL in less than a month!) its been an exciting time for us and for fixed rates in DeFi. Our community is exploding almost as fast as our loan volume (100M+) and we are excited to work together to further our mission of fixing finance to work for everyone.
The numbers from the past month confirm what we knew all along: fixed rate defi products are highly desirable and the ability to borrow crypto and lend crypto is something the defi market has been waiting for. It has also become apparent just how much more building there is to do and how much our community has to offer. What we build together is going to enable Notional to maintain and grow and our reach to further establish Notional as the gold standard of fixed rates in crypto.
We're excited to announce that a few grants have already been awarded to community contributors that approached us with their ideas - and the gates are now fully open for anyone who wants to apply to contribute via a unique proposal or to answer one of our open bounties. Keep reading to find out how to apply or make a proposal.
Applying for Grants
There are a few ways to participate in the defi grants program, which is open to everyone.
Open bounties: These targeted grants have been identified as needed by the Notional team and range from from US$5k-100k. This list will be updated periodically, so be sure to check back often. Please copy and paste the bounty title from the notion board as the project name when submitting an application for that bounty.
There are countless other useful grants that we'd love to see developed on Notional but that are not explicitly included in the bounty list. Funding for these grants is available and we encourage you to pursue those proposals by filling out the application form directly.
Non-technical builders are also encouraged to apply for community building grants - this could include, but are not limited to engaging the community with content, eg. videos, blog posts, podcast sponsorships, etc.
Here's the first round of approved proposals, which are now available on our new Community Hub page.
Crypto-O-Long Team - Protocol Dashboard
With the influx of user funds, loan growth and TVL, the proposal for building a stats dashboard to better visualize important figures for the protocol (hosted directly on the site) is approved and currently live.
Cryptotesters.com
Grant for the creation of educational tutorials including written, video & audio content. Social media engagement and growth & marketing consulting also to be provided for a 2-month term.
Layer3 - Bounties Campaign
Funding for a Layer 3 Bounty campaign for IRL community engagement and social amplification. Funds go towards NOTE rewards for bounty recipients + program management fee.
Thanks again for your support this far, and we look forward to receiving your proposals or bounty applications!
Quick links:
About Notional Finance📈
Notional is the first decentralized, Ethereum-based protocol for borrowing and lending at fixed rates and fixed terms. With variable rate lending, DeFi can only serve a small segment of the crypto lending market because variable interest rates don't provide the certainty that lenders and borrowers require. Notional fixes this by creating a true market for lenders and borrowers that democratizes and empowers individual investors, business owners and institutional investors.
After raising a $10 million Series A in May 2021 from some of the top VC firms, including Coinbase Ventures, Notional's protocol has been relaunched on 11/1 with a host of new features as well as the NOTE governance token. Notional is now a top 20 DeFi protocol, with more than 900M in TVL.
To find out more, follow Notional on Twitter @NotionalFinance, subscribe to the newsletter, join the Discord, or check out the website to learn more.

Notional Finance Newsletter
Join the newsletter to receive the latest updates in your inbox.
---