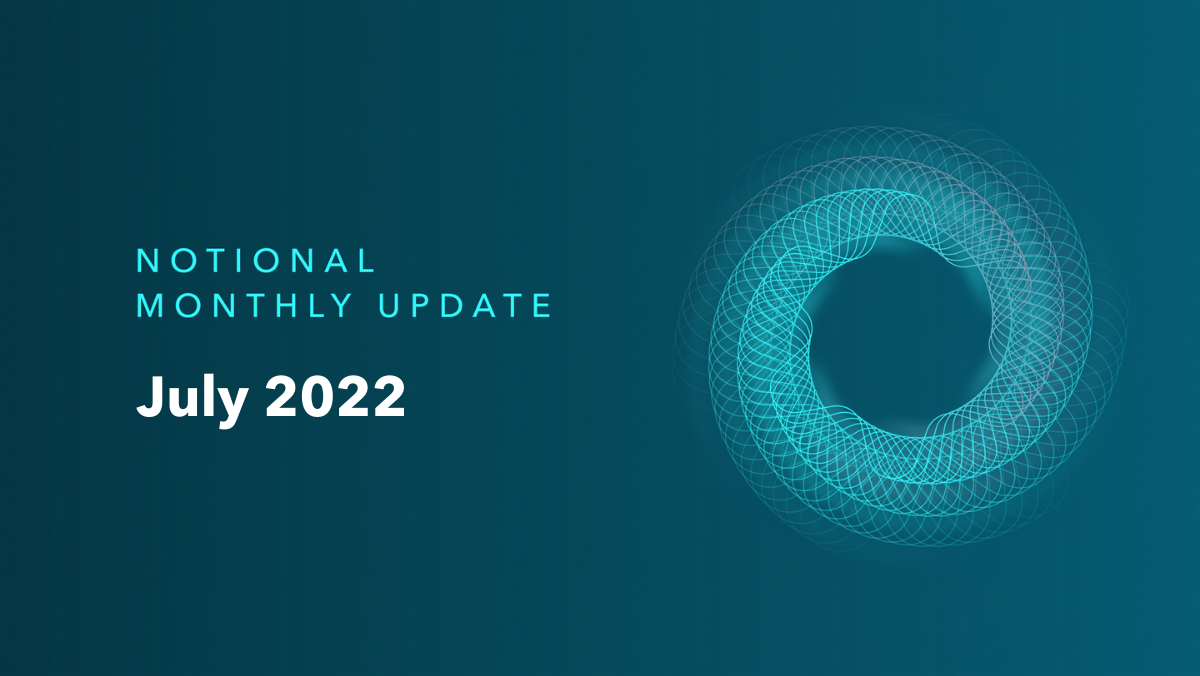 Notional Fixed Rate Update 🗓️ July 2022
Q2 stats are out, livestream video uploaded, TVL up, fCash wrapper and historical performance analyzed.
Welcome to the latest edition of the Notional Monthly Update! You can also follow the latest news on Twitter or join the Notional community on Discord. ‌‌‌
---
🗒 Summary Notes ‌‌‌
‌‌‌‌‌‌
‌‌‌- Q2 Protocol Report Released 📓
- Wrapped fCash Launch 💵
-Community AMA Video 📹
-Notional Blitz Winners 🏆
-Read: Notional's Market Performance during volatility 📉
---
‌📊 Monthly Protocol Stats‌‌‌
‌‌‌‌‌‌
‌‌‌-TVL: $102,662,917 (+19% vs June)
‌-Total Loan Volume: $14,600,000 (-76% vs June)
‌-Protocol Revenue: $17,225 in trading fees (-70% vs June) and $35,271 in COMP incentives (-48% vs May).
‌‌‌-Current Lend (DAI 12m) APY: 4.99%
‌‌‌-Current LP (USDC) APY: 7.75%
---
AMA Livestream Recap
We hosted another community AMA with the core team, including CEO Teddy Woodward, and CTO Jeff Wu. Topics included:
-Types of risk for DeFi lending protocols
-How Notional fared during the 3AC/Celsius/Terra collapse volatility
-CeFi vs DeFi
-What the devs have been up to (& wen layer 2?)
-The upcoming product (Levered Vaults) & more!
Check out the embedded full video below or you can also check out this Youtube playlist to see the shorter clips on the relevant topics.
---
Q2 Notional Finance Report
If you need even more Notional stats, we've got you covered. Download the Q2 2022 Report below:
Or check out the tweet thread summary:
---
ICYMI: Notional's Performance During Extreme Volatility.
Notional's resident Quant Analyst P-Y breaks down risks facing DeFi Lending protocols, and how Notional fared.
Notional proved to be extremely resilient and was highly effective at protecting users in times of high volatility.
Liquidations worked exactly as intended with multiple parties competing to liquidate risky accounts in a timely manner.
$1.4M worth of collateral assets were liquidated in the months of May and June.
The protocol successfully processed large redemption transactions on demand without ever being unable to meet redemptions.
Read the full post here or watch the AMA livestream clip on Notional's performance below:
---
Wrapped fCash Launched
Notional fCash is now available as both an ERC20 and ERC4626 token. This is a huge step towards making fixed income products a composable building block throughout DeFi.
Wrapped fCash unlocks these (and more) potential use cases:
Integration with Set Token infrastructure to build the FIXED product suite.
ERC4626 enables DAOs and yield aggregators to easily get exposure to high yielding fixed income.
Trading fCash on Uniswap v3 or Balancer
Listing fCash as collateral on lending protocols like Aave, Compound, or Maker
Integration with zk rollup projects like Aztec and zkSync. (Zero gas cost lending anyone?)
Check out the full post.
---
Notional Blitz Winners
Check out the post below to peep the winning submissions of our latest contest, centered around our new historical data extraction tool!
If you're interested in contributing on a regular basis, check out the info page on our Notable Impressions mining program. Alpha: We'll soon be inviting our top contributors into a core 'marketing guild' with extra incentives and benefits.
---
🗳️Governance
$NOTE holders can make a Notional Improvement Proposal (NIP) via the Commonwealth forum. Voting is gas-free and happens on Snapshot.
Staked $NOTE Treasury Update
Earlier in the month, Treasury Manager Roshomon wrote up a summary report of the first quarter of reinvestments.
"The NOTE staking strategy was launched 3 months ago with the aim of rewarding NOTE stakers for providing liquidity to NOTE and enhancing the security of the protocol. Since the strategy began on the 22nd of April 2022, the crypto market has experienced a massive downturn with ETH down around 60% and COMP down around 63%. COMP had been down around 80% at one stage, but has recovered over the last 10 days. This downturn has reduced the value of the COMP tokens in the treasury, but we have continued implementing the NOTE buyback strategy as planned."
Continue reading the full update here.
Reinvestments are still ongoing, with ~40% of all circulating $NOTE currently earning ~52% APY!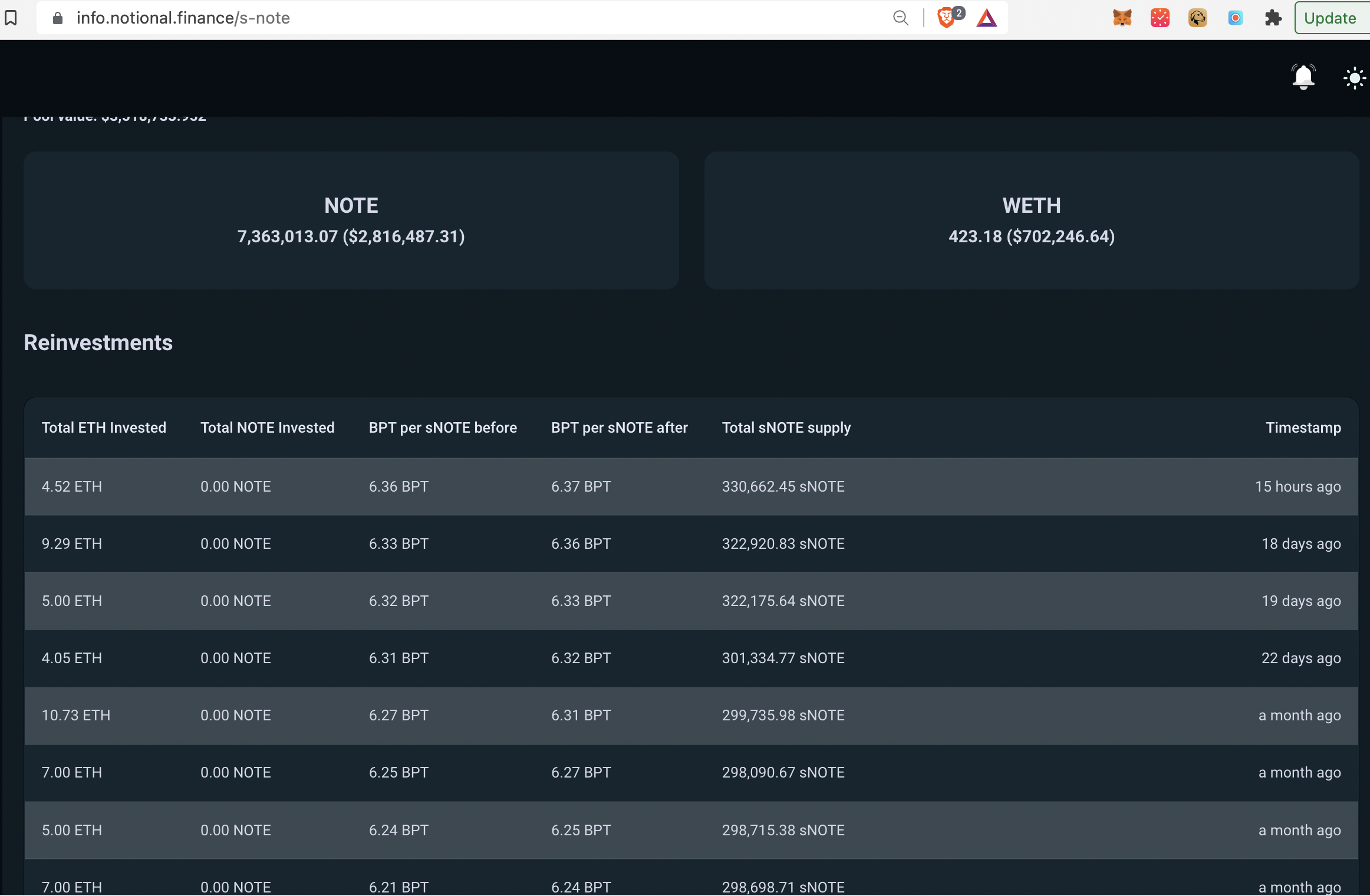 ---
‌🫂Community Events
📞 Blockworks Twitter Space 'Debate' w/ Teddy
On Wednesday August 3 at 5pm EST, Teddy will be on a Twitter Space w/ Luca Prosperi (from MakerDao & others) about focusing on crypto-native digital economies vs. real world crypto integrations. Follow @Blockworks on Twitter to tune into the chat!
📞 Onboarding 101
Come hang out with us on Thursday August 4 & Thursday August 18th at 3:00pm EST and let us introduce you to Notional! We'll be going over all the basics of how Notional works, walking you through lending, borrowing, minting of nTokens (LPing), and staking NOTE. This is your chance to ask us any questions you might have and become a Notional pro :). Direct event link.
---
🗞️Notional in the News
A roundup of Notional media mentions and appearances by the core team.‌
Notional on Opinionated from Coindesk
---
‌About Notional Finance📈
Notional is the first decentralized, Ethereum-based protocol for borrowing and lending at fixed rates and fixed terms. With variable rate lending, DeFi can only serve a small segment of the crypto lending market because variable interest rates don't provide the certainty that lenders and borrowers require. Notional fixes this by creating a true market for lenders and borrowers that empowers individual investors, business owners and institutional investors.
After raising a $10 million Series A in May 2021 from some of the top VC firms, including Coinbase Ventures, Notional's protocol was relaunched on 11/1 with a host of new features as well as the $NOTE governance token. Notional is now a top 10 DeFi lending protocol with more than $500M in total lending volume.
To find out more, follow Notional on Twitter @NotionalFinance, subscribe to the newsletter, join the Discord, or check out the website to learn more.‌‌‌

Notional Finance Newsletter
Join the newsletter to receive the latest updates in your inbox.
---